Anilox & GTT Sleeves & Rollers
GTT og Anilox
Together with our partner APEX we are specialized in the development, production and supplying of metering rolls for standard and special applications, concentrating on the printing, coating and corrugated board industry worldwide.
Flexo-printing
Within Flexo printing, we offer ceramic laser engraved, mechanically engraved chrome plated metering rolls & sleeves  from 100 up to 8000 mm. For the corrugated industry we offer a high quality stainless steel glue roll in combination with a ceramic doctor roll, unique for this industry.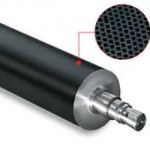 Anilox rolls/sleeves
Ceramic coated laser engraved anilox rolls & sleeves
Mechanically engraved anilox rolls & sleeves
Genetic Transfer Technology
GTT – for natural ink management – open-slalom channel
Traditional anilox rolls are becoming more extreme in specifications. To comply with that we developed the "Genetic Transfer Technology", a European-patented* (EP 2121339) new technology used to manufacture intelligent metering rolls.
Different surface material and structure: Bye bye anilox!
The surface material and the structures are different from a traditional roll and therefore, it is not an anilox roll anymore.
More printing possibilities than traditional anilox rolls
Using GTT intelligent metering roll gives more printing possibilities than using any other traditional anilox roll. A wider print range can be printed, with less rolls and less downtime of the machine, creating a better print quality.
Glue sets
Stainless steel glue roll and ceramic coated doctor roll best combination
AST for diameter build up in stainless steel or steel
UltraQuick sleeves
Within the Highest tolerance and the Lowest weight.
Stainless steel end rings available.
Label anilox rolls
We introduce the new standard for anilox rolls in the narrow web industry, by establishing a new division dedicated to the label segment. UniFli® anilox rolls with an aluminium body construction and a special anodized layer. Furthermore, Apex offers 2G (2nd Generation) anilox rolls with a lightweight steel body and stainless steel journals. Both products represent: Fast delivery times, Lightweight for easy handling and Innovative and Unique, always new roll for recon value.
Contact ScanTeco for further information
Mail. scanteco@scanteco.dk
or visit APEX