Slitters & Rewinders
Dual shaft slitter rewinder
Thanks to a wide range of accessories and to the great versatility of configurations, the Dual shaft Series slitter-rewinders are designed to meet the production requirements of the converting industry.
The centre driven winding technology with the highly advanced differential shafts allows producing very narrow reels (down to 20 mm) with consistent tension and hardness at high speed throughout the entire web width.
The dual slitting method – razor blades and circular knives – enables processing almost all web materials, with variable thicknesses from 10 to 500 µm in its standard configuration, and web widths above 2000 mm.
The long experience of providing slitters for special requirements, allows us to provide innovative solutions with  modern technology for the field of packaging and converting.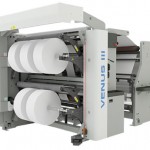 Turret rewinder
This centre-driven slitter rewinder is designed for film and paper  manufacturers and converters who need to produce several finished reels at high speed.
The TB3.06T2 drastically reduces the cycle downtime of a dual shaft machine by limiting change-over time and setting a productive rhythm to the operators.
The standard configuration uses one motor driving both rewinding shafts. Two rewind motors can be installed, for the independent control of upper and lower shafts.
In-line taping , cross slitting and defect detection form part of the many options available.
Doctor machines
The objective of this compact machine is to minimize material waste, which has a direct impact on the final profit, by recovering allignment defects, or cleaning printing mistakes with the splicing table.
The Doctor machine series are versatile and bi-directional inspection machines with integrated electrical cabinet and 2 or 3 independent AC motors.
Several inspecting features, such as strobo lights or inspection cameras, can be integrated in this machine.
We can offer you center surface slitters, center driven sliters as well as combinations of all form part of the range.
Contact us for a meeting on how to find the solutions fitting your needs and demands.
Contact ScanTeco for further information
Mail. scanteco@scanteco.dk